First Dances
There's a pattern in these first dance photographs. With only the bride and groom on the dancefloor to begin with, and everyone else on their feet and close by.
The next picture, in most cases, shows the end of the first dance with other people joining in with the first dance.
Many people dread it, but if it's staged correctly it can be amazing. Please note friends and family in the back of every photograph - we need them close by. We don't want anyone to miss out. Before the first dance you'll find me liaising with your photographer or ushering guests into the room.

Though my way of staging the first dance is very effective, and a real spotlight moment for you and all your guests, it's not rushed, and I don't make it extra awkward for the bride and groom.

51 first dances in 2014. I haven't counted how many weddings I have DJ'd yet in 2015.

When I meet up with brides and grooms I love hearing about the song they choose, what it means to them, and planning how we'll co-ordinate the introduction for their venue.

The concept here is to give the moment the potential to be amazing, and let you and your guests take it from thre. Planning, experience and creativity are the ingredients for a fantastic wedding.
They are not only applied to the First Dance, but to all aspects of your day.
Colshaw Hall. First dance.
Colshaw Hall. Still the first dance.
Lisa and Nick at Didsbury House.
Still the first dance at Didsbury House.
Ste propose during a fireworks display...
...that fireworks display. He got hold of the Pyrotechnics Company, the sent him the video, he matched it to the first dance, I projected it. Just gorgeouls.
Dad's reaction. Groom's face says it all.
Mere Brook House. Available light.
This is how I lit the dancefloor. It can be confusing, in a lot of photographs I use flash. We aren't ever dancing with all the room lights on. In fact, I like it very dark.
People dance like no-one is watching, when people cant really see them.
The was Alan's profile picture for a little while.
Alan and Robyn (still the first dance).
Wedding at Anna and Phil's farm.
Twirl the bride. People love it, dress looks fantastic. See people's phones at the bottom of the picture. When I say people all around the dancefloor I don't just mean a few in a line blocking everyone elses view. I mean all around.
Flash didn't fire, but you get the idea - still the first dance.
Castlefield Rooms (Manchester) First dance.
Okay, this one isn't actually the first dance...
...but it was very soon after. See the videographer?
Wedding at The Mere.
First time I played a wedding at The Mere was 2008. I've very few pictures from back then. This was December 20th 2014.
Applauding the band.
Every though the band preformed the first dance song. I still staged and introduced it. A band's first song is tricky, there's enough going on for them with the room acoustics changing drastically since sound check because now the guests are all in the room. So it helps them if I do it. I love working with bands, especially this one, which was Green Hot Clover.
Bell's of Peover (Knutsford). Lisa and Rob.
Lisa and Rob. Happy Together.
Step one, make that heart shape between your chin and chest.
Kiss. The crowd love it.
They cheered so loud, both when Robin and Robert entered the room, and here.
Then they were mobbed.
The dancefloor stayed like that for most of the night, through the evening food, right until the end. Robin has an expressive face, you can tell what he's thinking. So playing the songs we'd planned, mixing and watching his, and others, reactions was a really great feeling.
Not in focus, but still the first dance.
Victoria and James. Two minutes later.
I had to check, because I though I'd accidentally swapped in a last dance / end of the night picture. But no, this is the first dance - All You Need Is Love.
Step four. Laugh together.
Great John Street Wedding. Thilo and Liam.
Liam giving me the thumbs up because...
... the first dance had gone just like we all wanted.
Newburgh Priory. Stunning venue and a fantastic night for Kirstie and Andy.
We met up for out pre wedding meeting at Kirstie's brothers bar in Halifax. From that I knew it would be a special night, and it was.
Court Colman Manor (South-West Wales.)
Manchester based yes, but I do love a road trip.

Ask Beckie, in the foreground turning towards the camera. I drove to Courbon in France for her wedding.
Abbeywood Estate Wedding. Twirl.
Kiss. (and foreground - whisper something dirty)
and finally, cue applause. (And backround) punch your dad in the face.
Simon and Lowri, and Amy in the background.
At The Midland (Manchester)
Simon and Lowri, and Amy in the background.
Alex and Jay's wedding in Didsbury.
Cornerhouse Manchester.
Yes, the cinema. Ticket stub invites.
Bolton School Arts Centre Wedding.
This is potentially how close your Wedding DJ will be to you.
Secure a booking with a great Wedding DJ for goodness sake.

So many people (and some DJ's) think they are hiring speakers and lights for five hours.

Have a good long phone chat or meet them in person.

Apologies for the rant.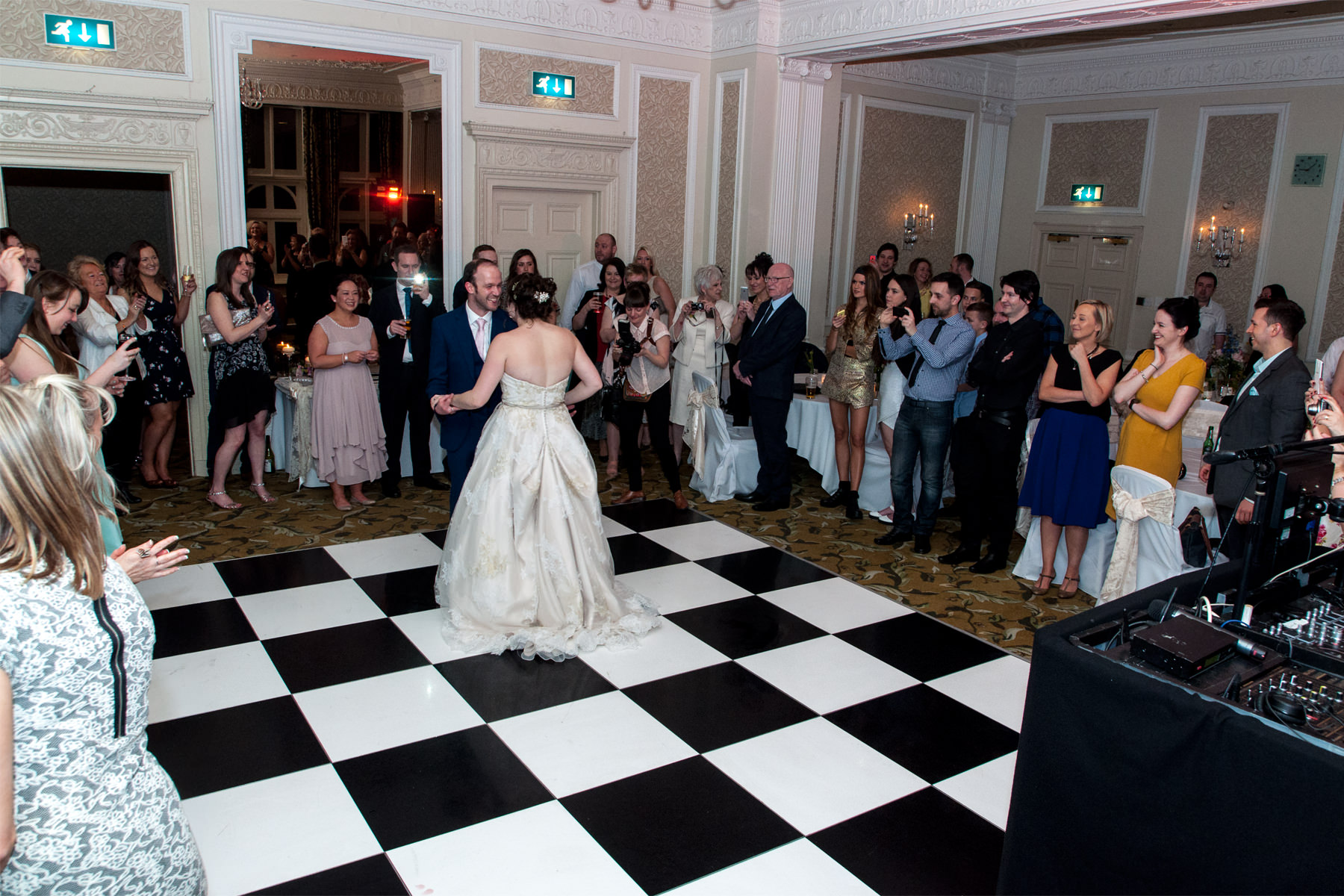 Wedding DJ at The Midland (Manchester)
Nutter's restaurant - Joseph Perrier Champagne Suite
If great food is top of your list.
Style Lodge Wedding DJ for Nina and Phil.
This was my second time Wedding DJ'ing at Style Lodge. I love it there.
It's one of the few venues where that curtain goes back and I can put the music on immediately. People mingle and evening guests arrive. Room 'turn-arounds' are more common but there's a few venues with this ability in one form or another.