Rach and Andy's Wedding at Liverpool's Malmaison.
I sound engineered for a Take That Tribute act and Alfie (Robbie) recommended me to his friend Rach for her wedding.

Nat saw me DJ and asked me to DJ her wedding.
...I met Rach again at...
...Nat and Mark's Wedding...
...and they were both bridesmaids at...
...Lyndsey and Pauls' Wedding where...
...I met Paul's brother Phil and...
...his fiance Billie. Who I'm playing for in 2016.
I get them used to selfies - I take lots.
Howard Wing impression.
He told me I need more height.

I love weddings where after the wedding breakfast the curtain goes back and I can start playing music straight away.
Beckie and Mark's first dance.
Thilo in the background in the pink skirt.
Mark and Beckie dancing at Thilo and Liam's wedding at Great John Street.
Liam Photo-bombing.
Re-creating that photo at Liam's wedding.
Liam in the background again.
I love this photo. Such a lively bunch.
Liam and Thilo's Wedding at Great John Street.
Karen and Jenny's Wedding
Bride and bride selfie.
We met up again at Lydia and Bev's wedding.
Which they recommended me for.
Ed and Rebecca I DJ'd for in France on NYE 2008.
Here we are at Rebecca's sisters wedding at Court Coleman Manor in South-West Wales.

They first saw me DJ at Jo and Mark's wedding at Tatton Park (no photo's) and then booked me for theirs.

Full disclosure. Ed(far left) and Rebecca(Centre-bridesmaid) are friends of mine.
Prestwold Hall Wedding DJ
Jo and Mark's + Rebecca and Ed's wedding also led to Nick's first wedding, at Prestwold Hall in Leicestershire.

Photograph by Christian Ward
2010. Holding the mic with both hands.
2015. Me and Nick at his brothers wedding...
...Jon and Amy's Wedding at Meols Hall (Southport)
Nick also recommended me to his colleague Kirstie...
...who's first dance with Andy was at Newburgh Priory (North Yorkshire)
Robyn and Alan at Mere Brook House (Wirral)
Robyn at Kirstie and Joe's Wedding.
Kirstie and Joe at Robyn's Wedding.
It was a co-incidence that they both booked me, but it was great to catch up with the newlyweds. Also, it was great to hear their friends take on their musical style as we discussed music at the pre-wedding meeting.
Kirstie and Joe.
Kirstie 'helping' me DJ.
Nina's Wedding DJ at Styal Lodge
...and her brother Mark, I'm his Wedding DJ at Thornton Manor in 2016.
...so long as him or Beckie don't see this photo.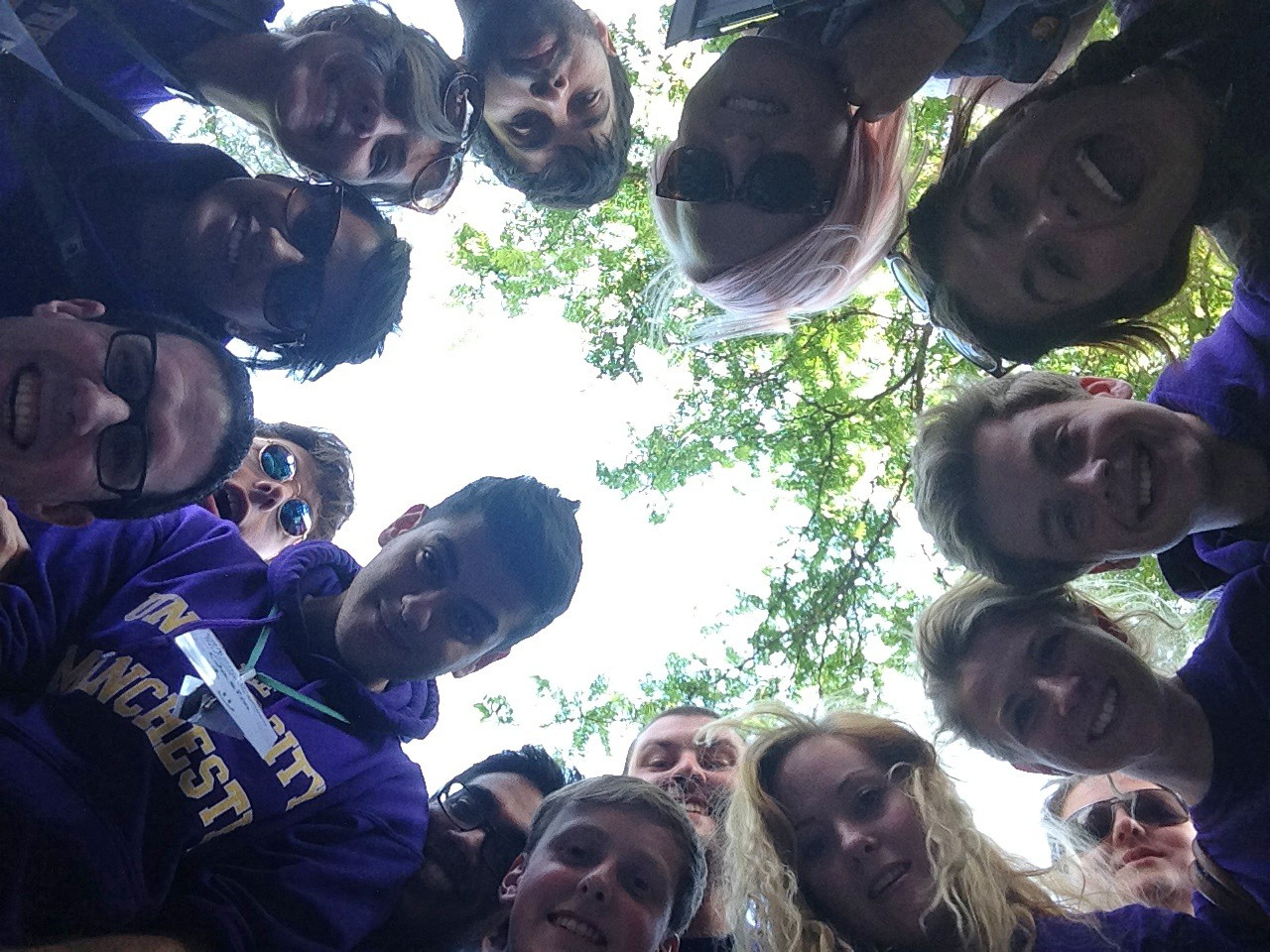 University of Manchester - MAP Team
I've been involved with the Summer Schools dating back to when I was at University and playing at the Hall's Fresher's events, Formal Balls and nights in between.

They were amazing nights, first year of uni, is an important time...
...and I get to re-live it.
This girls hair is going up.
Also meet great people like Katie singing at her own wedding.
Which took place at Victoria and Albert (Manchester)
Richard and Katie at...
Rebecca and Kevin's Wedding.
And more MAP people.
Not forgetting Rachel and Chris's wedding at The Castlefield Rooms.
I have different equipment now, but it is shown here blending into the room - that's still the aim.
Graham from Titan Touring Productions...
...recommended me for his friends wedding....
Heather and Mike's first dance at Park Hotel
Maori faces.
Michael Muldoon at DJ Andy Murphy's 40th
I've been friends with Michael since I started Sound engineering for his band years ago. I played his wedding and his wife recommended me to her college Nikki.

Ps. I am awesome. I love that T-Shirt
Picture from Nikki and Chris's wedding.
Helen's 30th.
I went to college with Helen, it was great to see her again.
Helen and Dave's music instruction was, all the great stuff you played at our wedding.
Tina and Stu wrapped around Helen.
Tina and Stu's and cake cut.
It's great to play for people so passionate about music. And Stu is.
Dave's head, he stayed near me - he was calling the shots.
I can't take all the credit for it. It just a joint effort- as it should be.
Astra Zeneca. I've DJ'd at the Alderley Edge site...
...for seven of the last eight years. Only missing one year because I was working on a feature film in Newcastle - as a Sound Recordist with Joanne Froggatt.as the lead actress. She won an award at the London International Film Festival and the film did at the Montréal World Film Festival.
Claire (from AZ) and Nat.
Client Connections